---
What I Say When I Say What I Shouldn't
Nov 26, 2019
2021 UPDATE: This project had been put on hold indefinitely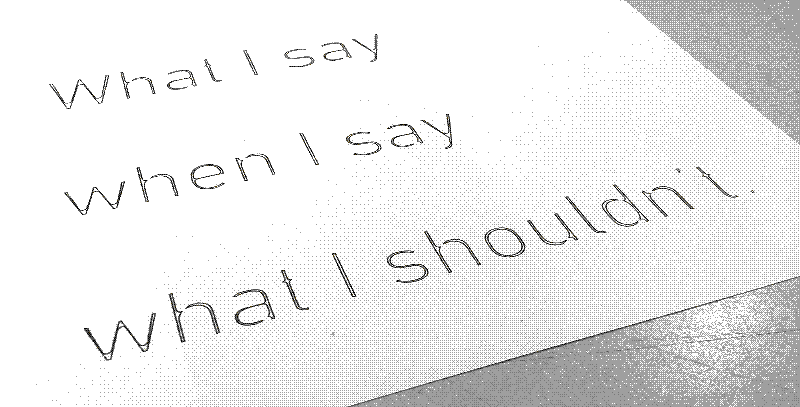 What do we sacrifice on the altar of political expediency?
What parts of our lived experience get ironed out in the quest to become acceptable subjects for political action and civil protections?
What don't we say to keep others comfortable?
What don't we say in order to stabilize our gender in someone else's mind's eye?
These questions haunt me, I often think about what is lost when the trans community is pressured to forge themselves into appealing political subjects. Especially when the shadow of stealthing still looms large over many members of our community. These questions feed into a more personal question for me as an artist, one posed to me by the artist Kambui Olujimi during a studio visit a few years back. It went something like this:
"What is the art you would make if you weren't waiting for other people to catch up?"
This is at the core of the first edition of TransAction, my new artist book series project. The theme of the first book is "What I Say When I Say What I Shouldn't" and the call is open now. My hope in creating this series is to offer trans folks an outlet to answer this question and to consider my thoughts above. What I hope to feature in the book is a wide variety of formats and modes of coming at this question. I am looking for writing and visual art and I would love to see submissions at varying states of completion, from various decades of experience, and in formats that might be hard to describe or for which publishing seems impractical. Be they drawings, poetry, social media posts, short articles, comics, memes, fiction writing or anything else I have yet to imagine.
What I really hope for this series, is to connect trans folks across geographic, racial, generational, and other boundaries and allow for more nuanced and complicated explorations of trans theory and experience. With all of this in mind, I also would like to see the project continue for many editions, inviting participation on different themes for each book.
---
For more information or to share your thoughts about this piece, please feel free to contact me at:
[email protected]